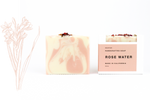 SHOP NEWS
Our Newhall retail location is open for in store shopping.
Tuesday through Friday from 10am - 5pm & Sat 10:30am - 4:00pm
24353 Main Street, Newhall, CA
(661) 753-3540
Open some Sundays though the holidays. Check Instagram for updates.
Closed Monday
Hand Crafted
in Los Angeles California
Testimonials
Visit Soapish if you haven't already...the smells are amazing and the products are phenomenal. I've purchased bath bombs, soaps, and lotions.

M B.

I'm obsessed! The bath bombs were amazing and high quality. Supreme relaxation I will be back for more.

Christina M.

Soapish is my go to for gifts and self care. Her lip balms, lotions, sugar scrubs, bath bombs, bubble bath and bar soaps are household essentials. I'm pretty sure at this point I have tried one of everything.

Elizabeth D.